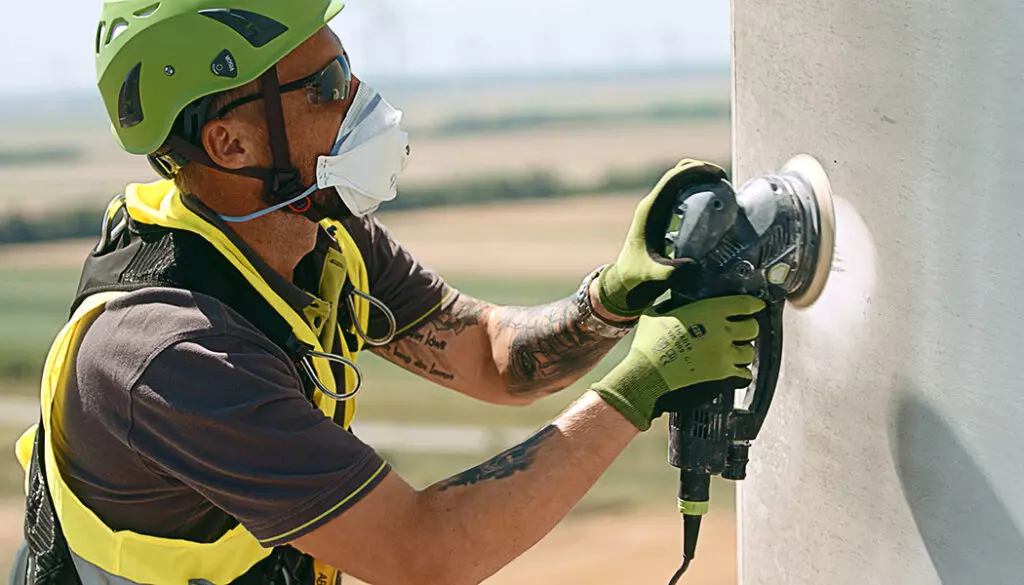 Rotorblade-Jobs
Open Jobs in rotor blade service in wind energy
Wind parks are the key pillar of the energy transition, generating a significant portion of renewable energy. However, the turbines are exposed to wind and weather every day throughout the year. This particularly affects the movable rotor blades.
Therefore, it is important to regularly maintain and inspect them. This requires specialized professionals who are prepared for the demands of the job. Here, you will find an overview of all our job offers in rotor blade service.
Do you have questions about our open jobs in Rotorblade?
We are happy to help.
Application Center
Monday – Friday: 8 am – 4 pm (German time)
Tel. +49 421 – 696 80 033
Send your CV!
No suitable job offer found? No problem, just apply to us anyway!
Path to Rotorblade-Jobs
Working in rotor blade service involves manual jobs that do not require specific vocational training. Instead, anyone with the necessary qualifications can work in this position. The best foundations are either coming from rotor blade production or having a vocational-technical education. However, career changers can also enter this field with additional qualifications.
Requirements for Rotorblade-Job Offers
To pursue a job in rotor blade service, a few conditions must be met to carry out the work. This includes manual dexterity, as a significant part of the tasks involves the maintenance and repair of the wind turbines. Additionally, a good technical understanding is necessary to comprehend the systems and related tasks. Experience in surface coatings is also advantageous. To acquire the necessary knowledge about turbines, a certain willingness to learn is essential. Other personal requirements include the ability to work in a team and a sense of responsibility.
Rope access work or work plattform?
The job-specific requirements arise from the nature of the tasks and how they are performed. As work is generally carried out at a height of approximately 100 meters, often using ropes, absolute height compatibility is a must. For rope access work, a FISAT or IRATA certificate for rope access techniques is required. Those without the certificate can work from a suspended work platform, which is raised externally on the wind turbine tower. Applicants for rotor blade service jobs must be free from vertigo. Additionally, they require a basic level of fitness as the work can be physically demanding. Since multiple wind parks are typically serviced across Europe or even worldwide, professional willingness to travel is essential, including longer rotations. Routine inspections of the turbines allow for planned travel routes.
Rotorblade Jobs – Areas of Responsibility
The professions in the field of wind energy are diverse, and rotor blade service is no exception. The tasks vary depending on the specific turbine. This is due to the different types of turbines, each with its specific requirements. Moreover, the work is unpredictable as faults occur spontaneously and repairs are often needed at short notice. The weather and environmental conditions also constantly change. Typically, the tasks can be divided into the areas of inspection and maintenance or repair.
Rotor Blade Service Jobs – Tasks in Inspection
The inspection involves assessing the condition of the rotor blades, which is a legal requirement. It is carried out through non-invasive visual inspections from both inside and outside the blades. The blade body, blade seals, drainage holes, and lightning protection system are inspected. Photos are taken as evidence, and any deficiencies and necessary repairs are identified.
For this purpose, rotor blade service personnel ascend to the rotor blades using ropes or lifting platforms. This includes assessments and routine checks to detect any damages. Another task is the inspection of lightning conductors. Thanks to image capture, activities can partially be performed using drones and telescopic cameras. Finally, meticulous documentation is required throughout the process.
Rotor Blade Repair Jobs – Tasks in Maintenance
The rotor blades of wind turbines are subject to constant stresses, including frost, rain, wind, lightning strikes, and, in offshore installations, salt. The mechanical strain should not be neglected either. To prevent malfunctions and major damages, ongoing maintenance work and, if necessary, repairs are essential. While repairs depend on the actual damage and vary each time, maintenance includes specific tasks.
These tasks include cleaning and maintaining the surface of the rotor blades. Regular measures for erosion and corrosion protection are also necessary to shield them from environmental and weather influences. If the paintwork has been affected over time, refreshing the signalling paint is also required. Again, comprehensive technical documentation is essential throughout the process.
---
Earnings in Rotor Blade Repair Jobs
In rotor blade service job offers, there is less variation in salaries compared to other wind energy fields. However, factors such as work experience, the employing company, and the working conditions do play a role. Whether the work is conducted onshore or offshore can also make a difference. If you would like a more accurate assessment, feel free to contact us, and we will provide personal advice.
Career Opportunities in Rotor Blade Service Jobs
Few other fields experience such a boom as the renewable energy sector. Wind energy is its key pillar, both onshore and offshore. Rotor blade service jobs play a crucial role because the turbines cannot operate without them in the long run. Furthermore, the accessibility of the profession is favourable for career changers from unrelated fields. Therefore, it is currently a good opportunity to build a career, provided that certain requirements are met.
To succeed in the wind energy sector, three qualities are crucial: adaptability, willingness to cooperate, and initiative. While this may initially sound contradictory, there is a reason for it. Adaptability is necessary due to the rapid changes in the industry. Those who cannot keep up will fall behind. As work is done in teams, where one must rely on the other, cooperation is important. However, there are situations where quick solutions are required for urgent problems. In these cases, the ability to make immediate decisions without prolonged consultation is necessary.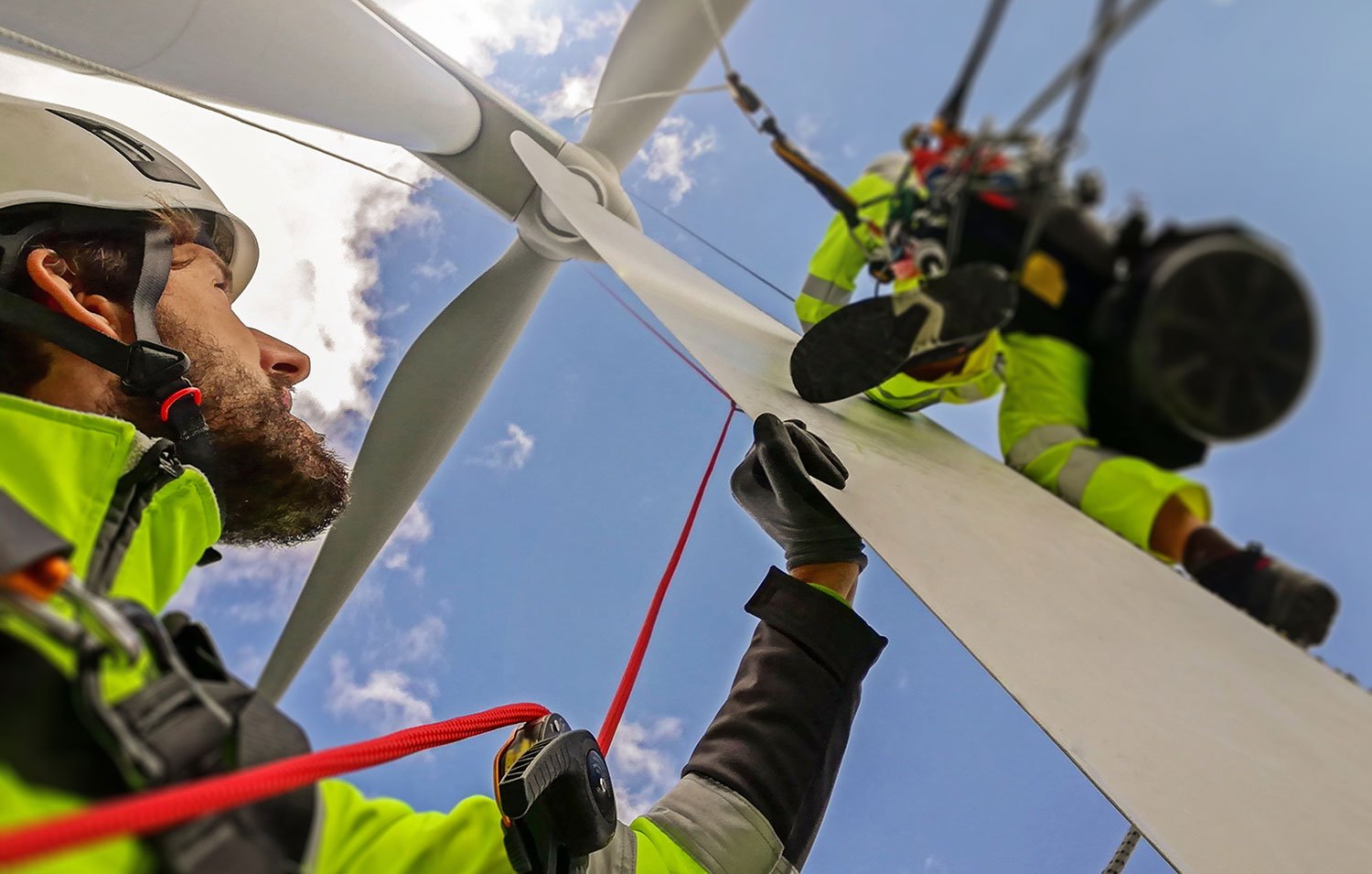 RTS as an Employer for Rotor Blade Service Jobs
With RTS Wind AG, you have an experienced partner by your side. We implement wind parks across Europe and even worldwide. Our teams are constantly looking for support in their daily tasks. It doesn't matter if you are an experienced craftsman, an ambitious career starter, or an enthusiastic career changer – we offer suitable positions for everyone.
We would be happy to answer any queries you may have.