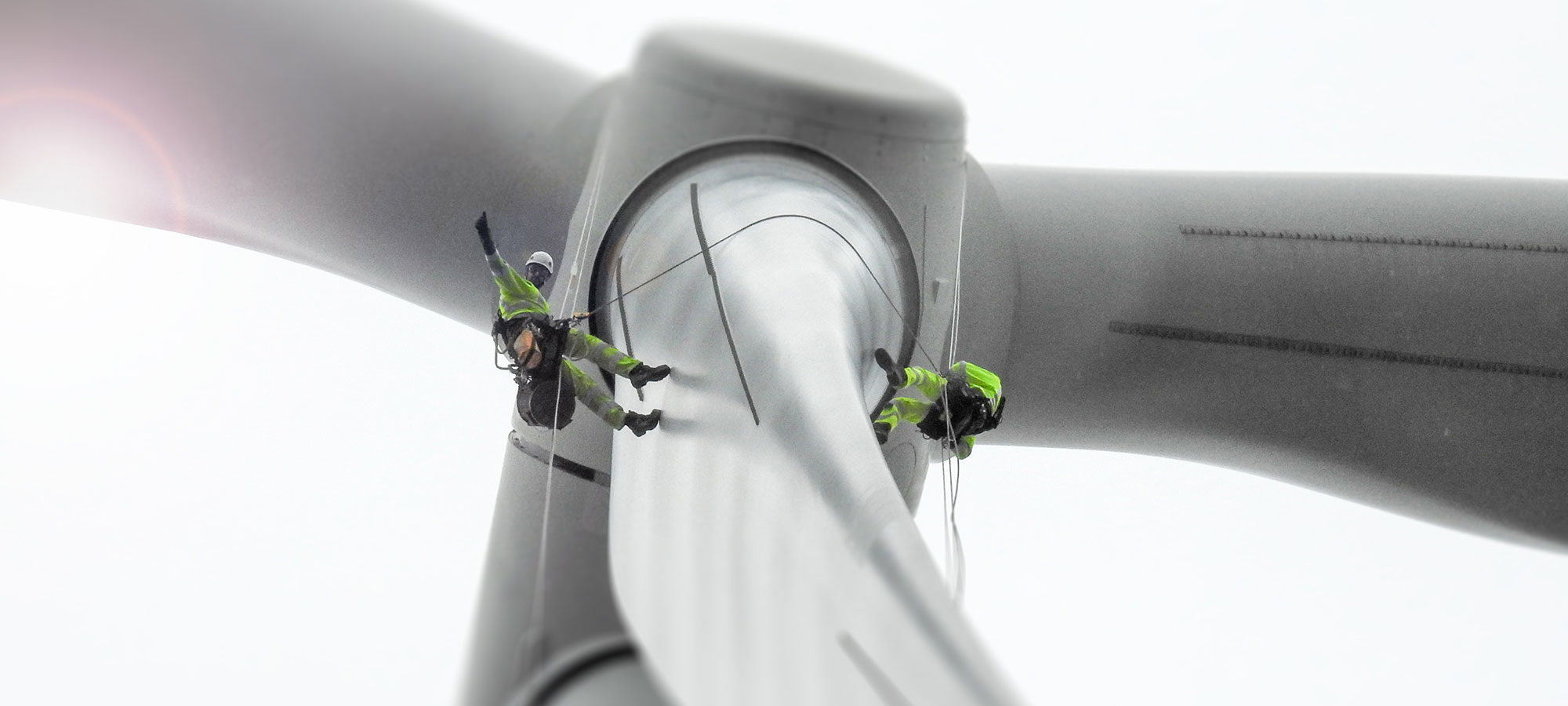 Rotor Blade Service
Europe-wide inspection, maintenance and repair projects
The rotor blades of the wind turbine are exposed to wind and weather all year round. Strong forces act on them. That's why they need us.
Careful maintenance of the surface structure and the technology is essential to ensure the optimum yield and long-term value retention of the turbine and to ensure that the rotor blades have a long life cycle.
Our rotor blade teams are on the road in our customers' wind farms under long-term framework contracts, mainly throughout Europe, but also worldwide. Our employees are specialised in working from the rope or from the working platform and are familiar with the common turbine types.
With a high level of safety understanding and well-founded professional experience, all necessary work on the rotor blade is carried out: From the rope or from our 38 company-owned rotor blade access systems.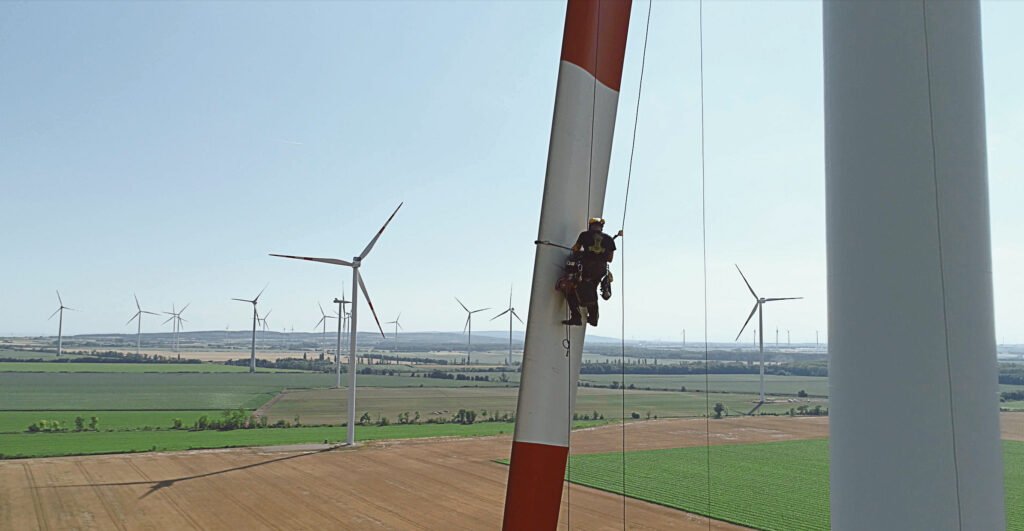 RTS Wind GmbH (Austria)
Some repairs cannot be carried out on the assembled blade. For this purpose, our sister company, RTS Wind GmbH in Austria, has a 500 square metre production hall at its disposal. This is where material is stored and smaller jobs are carried out. In general, RTS Wind GmbH specialises in rotor blade and service work in wind energy, and due to its location, the team is well acquainted with the conditions in alpine locations.
OnRope Lda (Portugal)
OnRope Lda is a training and rotor blade service provider with headquarters in Porto and belongs to RTS Wind AG. The cooperation is that we support each other in projects, we also use the training offer.
Portfolio:
Inspection
Assessments & routine inspections to detect damage
Checking the lightning protection systems
Inspection with drones and telescopic cameras
Detailed technical documentation
Maintenance and repair work as a partial or complete service
Surface cleaning and maintenance
Repair work
Application of signal coatings
Erosion protection measures
Corrosion protection
Detailed technical documentation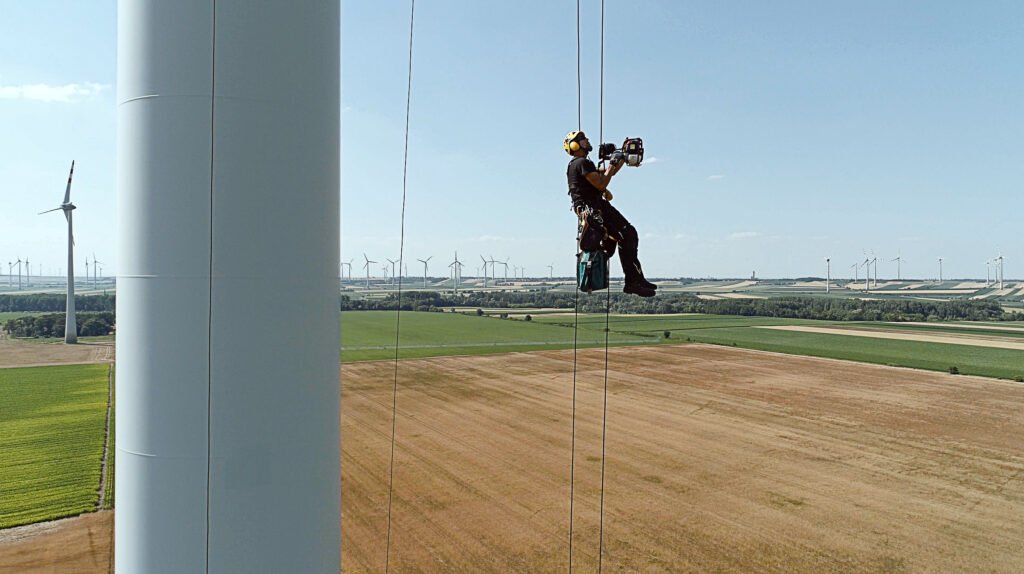 Our equipment:
2 Cherry Picker
38 Rotor Blade Platforms
47 Service Vehicles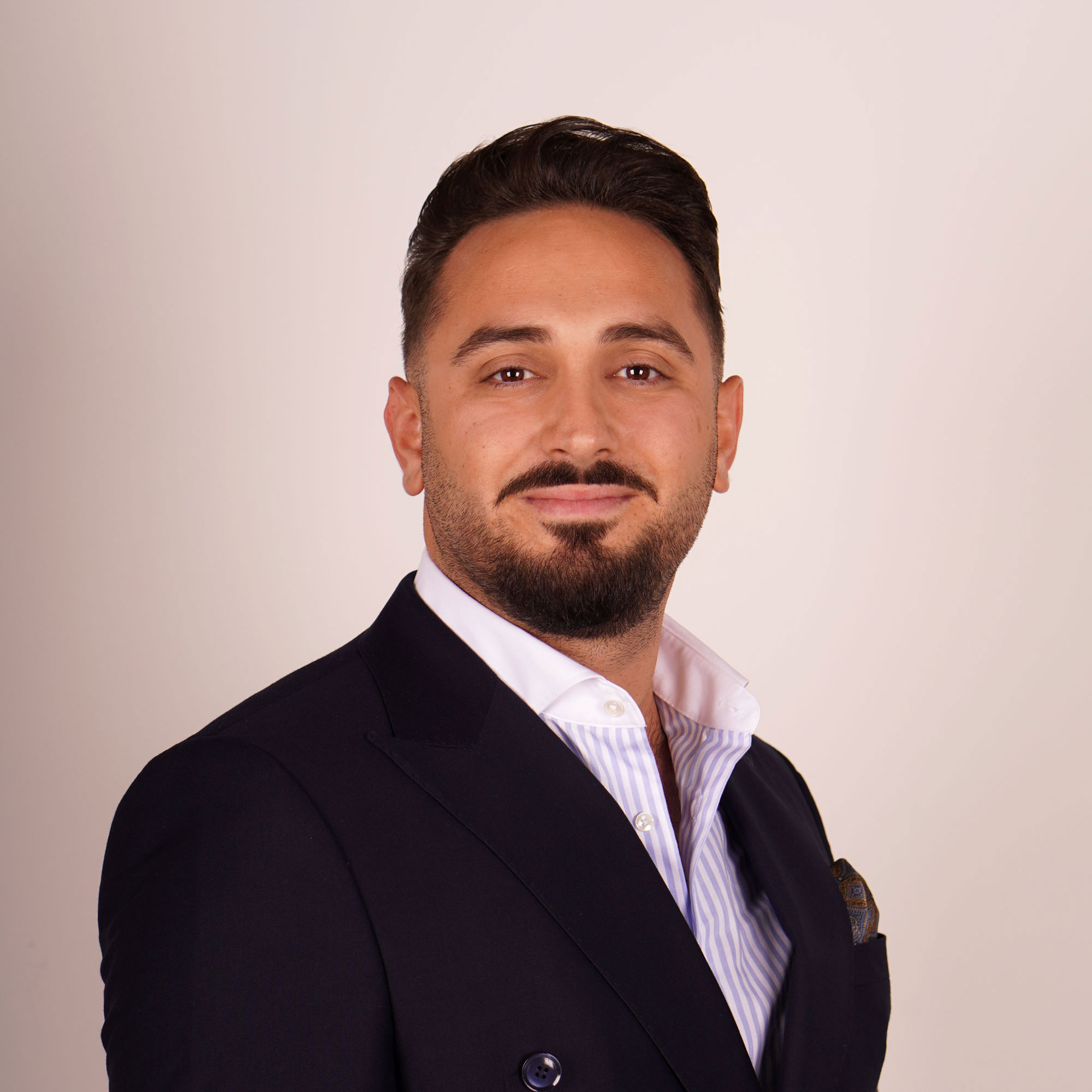 "My career at RTS Wind AG began in 2013 with a commercial apprenticeship. After successful completion, I worked as a junior project manager in the rotor blade area and gradually took on more responsibility. Last year I was very pleased to be offered the position of head of department and gladly accepted this challenge.""
– Bilal Kaldirim, Head of Rotorblade Service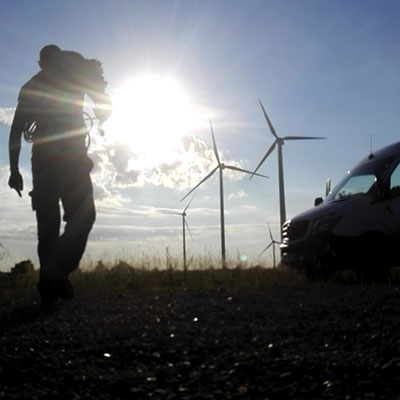 "What I really appreciate at RTS Wind AG is the good team spirit among my colleagues. This applies both to the employees in the wind farms and to the contact persons in the office. Together we master the challenging task of implementing the energy turnaround. This often means travelling long distances, working in all weather conditions and observing many safety regulations. A good team is the be-all and end-all here."

– Michal B., Field Supervisor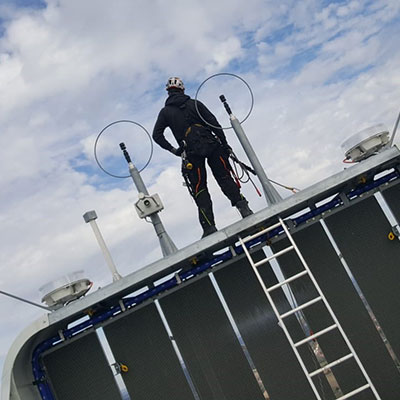 "I chose wind energy because this industry has so much to offer me: Adventure factor, challenge, constant technical development, lots of fresh air and working in an international team. In addition, I have the good feeling that I am doing something lasting for the future of our planet. RTS Wind AG and the rotor blade service are the ideal employer for me with many good goals, I don't know any daily routine, every day challenges me and brings me further professionally and personally".

– Wjatseslaw B., Teamlelead
Follow us in this video to a typical site in the rotor blade service
Imagebroschüre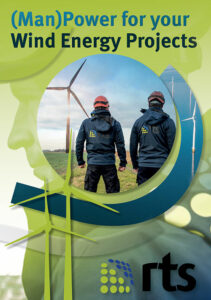 Still curious for more information?
We would be happy to answer any queries you may have.