Job vacancies in wind energy – Offshore-Jobs
Wind farms are more important than ever. As a renewable energy source, wind power plays a crucial role in the energy transition. It is a lucrative industry in which the job market is also booming.
There are various sectors in which skilled professionals are sought after, including us. On this page, you will find many job vacancies in offshore wind energy at RTS. Full commitment to a better future, view our offshore-jobs!
Do you have questions about our open jobs?
We are happy to help.
Application Center
Monday – Friday: 8 am – 4 pm (German time)
Tel. +49 421 – 696 80 033
Send your CV!
No suitable job offer found? No problem, just apply to us anyway!
Offshore – Job Vacancies Off the Coast
In the field of wind energy, there are two types of job vacancies: offshore and onshore. While onshore jobs take place on land, offshore jobs are carried out off the coast. They are located at sea, a good distance from the shore. As a result, work is carried out on-site for certain periods, and commuting to work daily is not possible. Typically, the rhythm is 14 days on-site and 14 days at home. In any case, each deployment is an adventure that often begins with a helicopter flight to the workplace.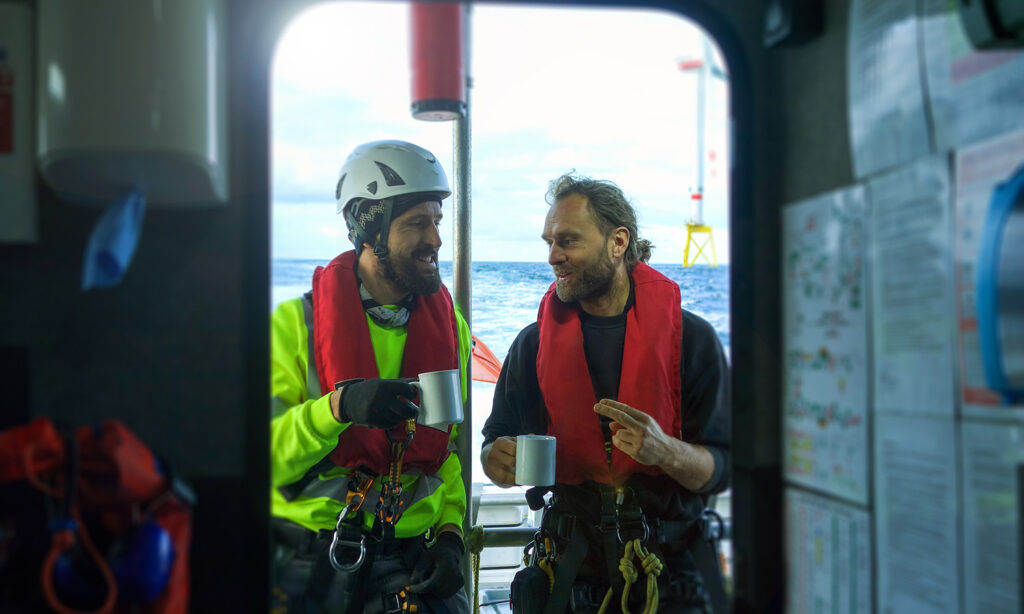 Requirements for Offshore Wind Farm Jobs
Anyone considering a job vacancy in offshore wind energy must be aware that the work takes place far from home, and during that time, you cannot simply meet up with friends. This means that workers may be away from their loved ones for several days and weeks. Therefore, it requires not only a willingness to travel but also the ability to cope with this work rhythm in the long term. Whether it aligns with personal preferences and family commitments is a decision that each individual must make for themselves.
There are specific requirements for offshore job vacancies. As the work takes place at considerable heights, applicants should have a head for heights and be able to work at elevated levels. Furthermore, either knowledge of wind energy or completed mechanical or electrical training and professional experience are necessary. Lastly, teamwork is an essential requirement, as reliability and cooperation with others are crucial to ensuring everyone's safety in the wind energy facility.
Wind Power – Offshore Jobs and their Areas of Responsibility
The wind industry offers a variety of professions that differ significantly in their tasks. However, they are all essential for keeping a wind farm running. Typical job vacancies in offshore wind energy include service technicians and commercial professionals.
Service Technicians in Offshore Job Vacancies
No matter the type of installation, trained professionals are necessary for its operation. They are involved from the initial construction phase to the final operation. Whether it's installation, commissioning, ongoing operation, or maintenance, specialized professionals are an integral part of every wind farm. Offshore job vacancies offer a wide range of positions with various requirements and prerequisites.
Almost anyone with the appropriate technical or craft training can work in this field. Typical tasks include not only construction, commissioning, and maintenance but also service tasks, remote monitoring, and quality assurance. The team's experts ensure smooth operation, promptly resolving any issues to avoid lengthy interruptions.
While a career transition is possible in the field of wind energy service, possessing an additional qualification is desirable. Various craft-based professions can serve as a foundation for this:
Storekeepers
Electricians
Mechanics
Mechatronics technicians
Rope access technicians
Commercial Professionals – Offshore Wind Energy Jobs
Not only is technical work essential in wind farms, but planning professionals are also indispensable. Specialized personnel are needed to fill positions in both technical and commercial roles. Ideally, candidates already possess specific expertise and industry experience.
The areas of responsibility range from new development and planning to HSE management and commercial operations management. The diversity of job vacancies in the offshore wind energy sector is vast. Some revolve around the technical development of turbines, while others focus on the planning of installations or the identification of suitable areas for construction.
Precise recruitment is necessary to fill these positions. Typical professionals come from the following areas, although this is not an exhaustive list:
Supervisors
Construction managers
Team leaders
HSE managers
Quality inspectors
Site administrators
Project managers
Site acquisition specialists
---
Earning Potential in Offshore Job Vacancies
It is challenging to make definitive statements about salary prospects as the field of wind power jobs varies. Offshore positions also come with the aspect of working far from home. Above all, earnings depend on the specific profession. If you have questions or are unsure, we are happy to provide personal guidance.
Career Opportunities in Offshore Wind Energy Job Vacancies
In short, the prospects are promising. Renewable energy sources become increasingly important with the energy transition, making them a significant part of the future. The expansion of wind turbines brings offshore and onshore job vacancies, with offshore wind power accounting for a significant portion of wind energy. Skilled professionals are in demand, and the trend is toward an increasing need for workers. So, if you are ready to tackle the requirements and tasks, now is the best time to start. Job vacancies in offshore wind energy will continue to be abundant.
Self-initiative and the ability to cooperate are the key requirements for professional success in the wind power industry. While teamwork is essential, as no one is an individual warrior, there may be occasions when making quick decisions independently becomes necessary. Acute problems require prompt solutions that sometimes demand self-reliance. Additionally, adaptability is crucial to keep up with the ongoing changes within the industry.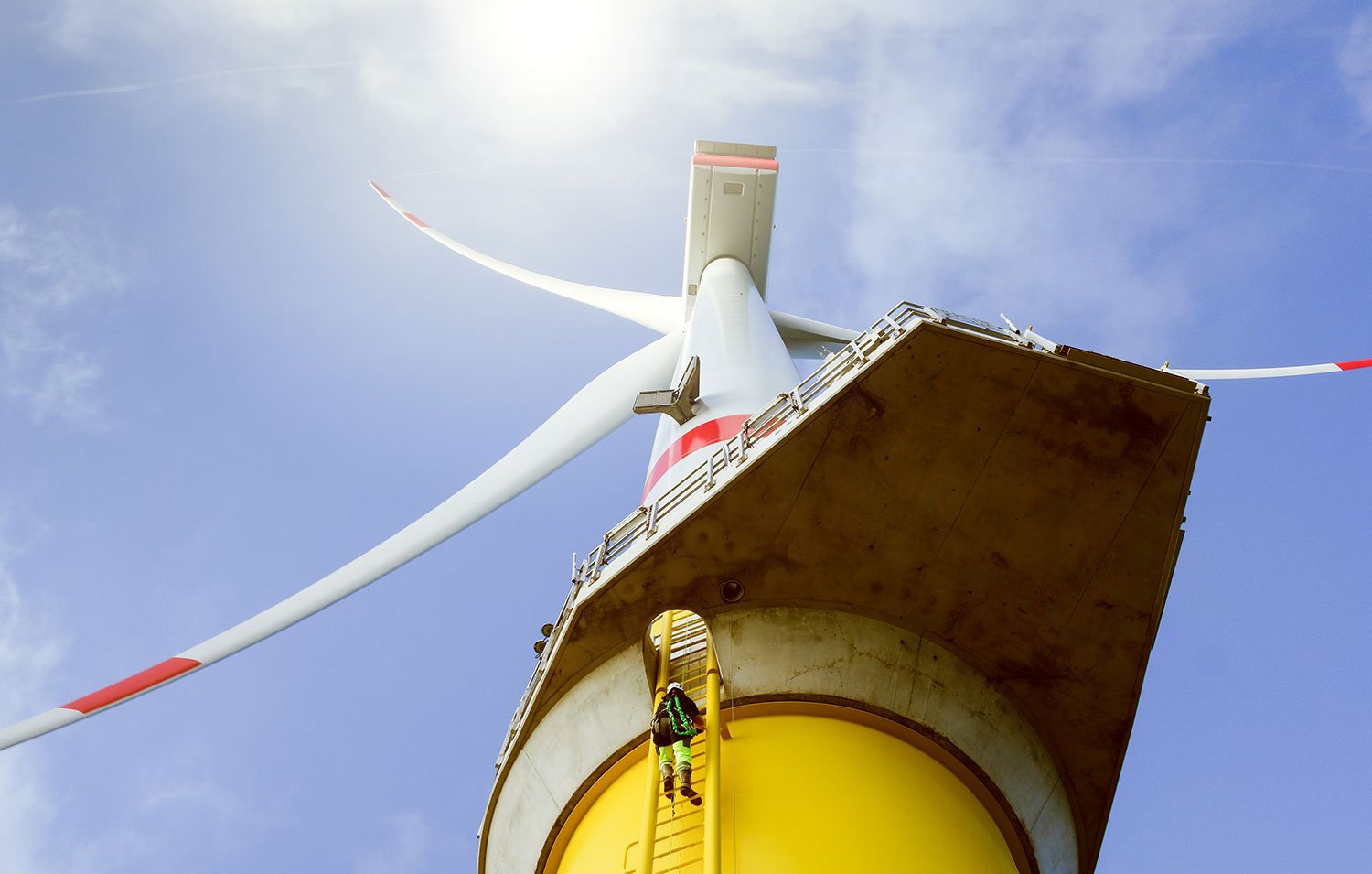 RTS Wind AG as an employer with offshore job vacancies
At RTS Wind AG, we aim to create the best conditions for employees. We are experienced partners in the field of wind energy, working on the worldwide implementation of wind farms every day. Our teams always welcome reinforcements in any area, whether as skilled craftsmen with ample experience, eager apprentices, or enthusiastic career changers.
We would be happy to answer any queries you may have.